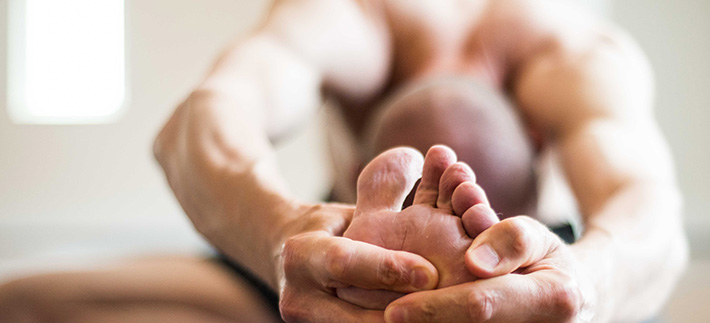 APRIL 23, 2018
Santosha Student Bradley Apps
If you hang out enough at Yoga Santosha, it won't take you long to discover a diverse community of regular students. Bradley Apps is one of these individuals. With a practice that draws him through the doors 6 days per week, Bradley is nothing short of committed.

7 years ago, Bradley partook in a class at Lululemon which inspired him to check out what Yoga Santosha had to offer. He was greeted at the front desk by Alastair Cooke (co-owner of Yoga Santosha), who he recalls patiently responding to the many questions Bradley had to throw at him.
"I asked him all kinds of questions, like what can yoga do for me, will it make me strong, will I lose weight?"
Alastair was naturally encouraging, suggesting that with a regular practice and good diet, Bradley could reach his physical goals.
One of his first classes was with Candace Cooke (co-owner of Yoga Santosha).
"I found her demeanour and personality so calming and relaxing, I thought 'I want to take more of this!'"
While it may seem that Bradley entered into the physical realm of yoga, as most people do, he discovered quickly the additional benefits to the rest of his life.
"Very quickly I had an intuitive feeling that it was something that was good for me. I really like the atmosphere and gentle nonaggressive, compassionate attitude that is presented while practicing yoga".
As he dove deeper into the consistency of his practice, he noticed some more fundamental changes.
"After practicing yoga for a time, I realized awareness," said Bradley. "Awareness is so rewarding. To grow in awareness is one of the most rewarding things in life.
To feel that your awareness and perception is expanding and you are noticing and paying attention to the minute details in your life. That's got to be the secret to getting the most out of the journey, grasping the present moment and what each present moment has to give you."
Bradley completed the teacher training program at Yoga Santosha, an endeavour that seemed to have taken him out of his comfort zone but in the long run strengthened his practice.
He commented on how scary the program seemed at first, being one of only two males in the class. In the end, he says he gained a lot of growth from it.
"I have worked at it. I do believe that not only physically have I changed a lot, but I feel so limber and youthful. Emotionally and mentally I feel much more mindful and much more aware. The whole atmosphere created by Yoga Santosha, the community, and the teachers has encouraged me over the years and given me the drive or the courage to live that way."